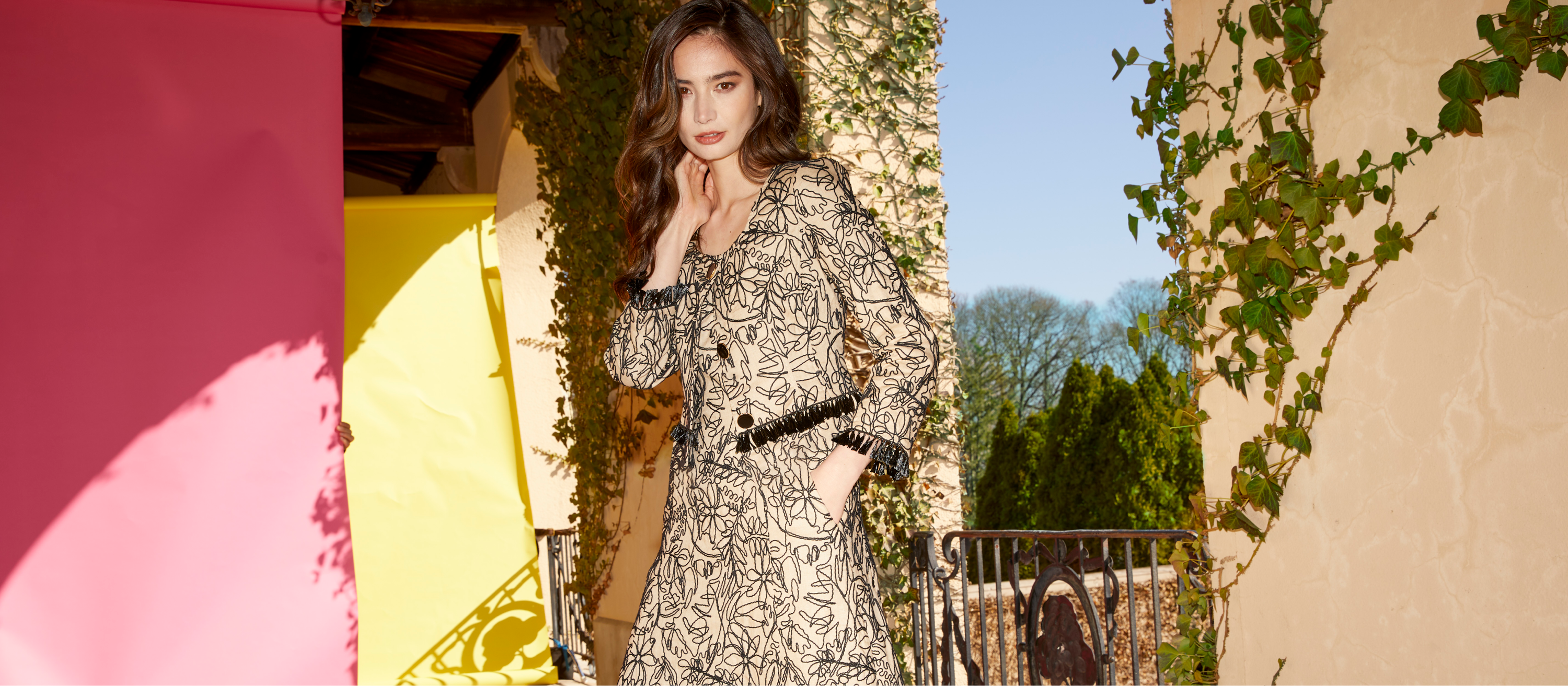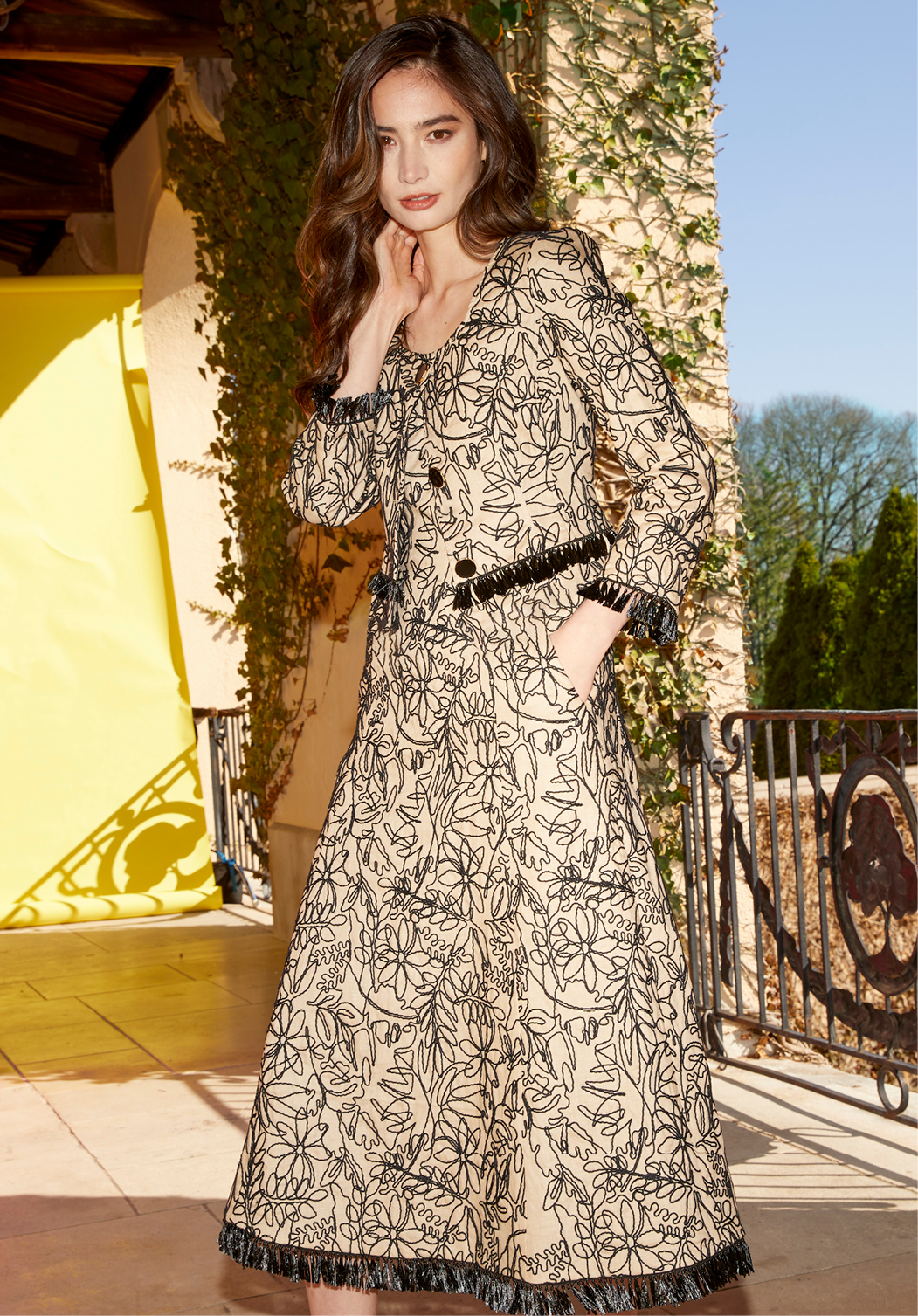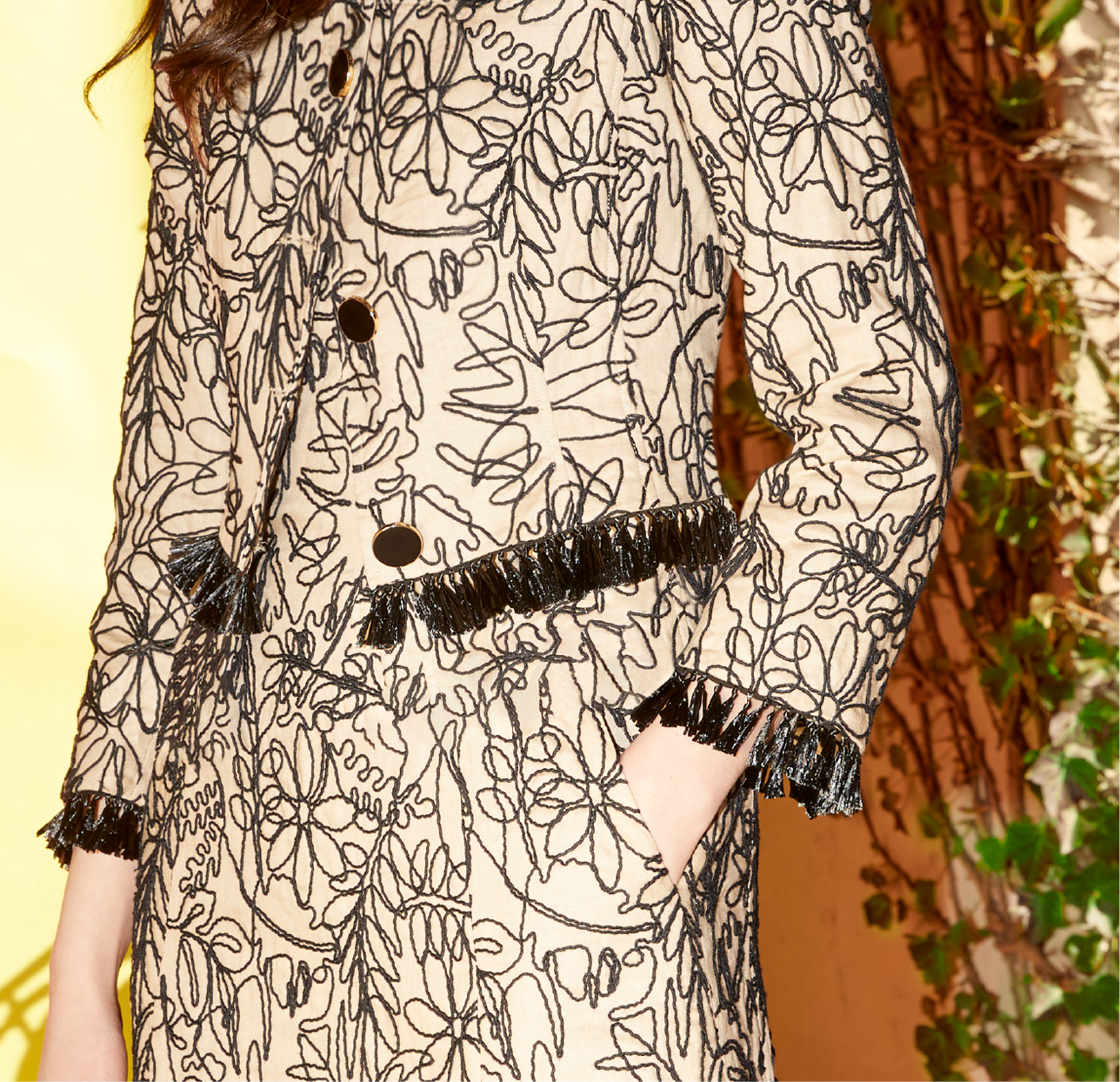 THE EVERGREEN NEUTRAL
Summer's dominant sandstone shade is a versatile and practical choice for a stylish seaside vacation. It complements other hues, is easy to wear, practical, a fashionable alternative to lighter shades of beige, and works well with beach accessories. Choose these styles as travel companions and you'll be able to create a variety of trend-right outfits that are perfect for your getaway. The sandstone hue adds attractive calm to twill tops and bottoms, as well as sweaters. It's a fitting linen foil for dazzling black embroidery in a jacket and dress. The rose copper foil over a sandstone linen base introduces an element of dazzle. Eight-color Italian jacquards are harmonious with sandstone, as the overall effect is soft and neutral.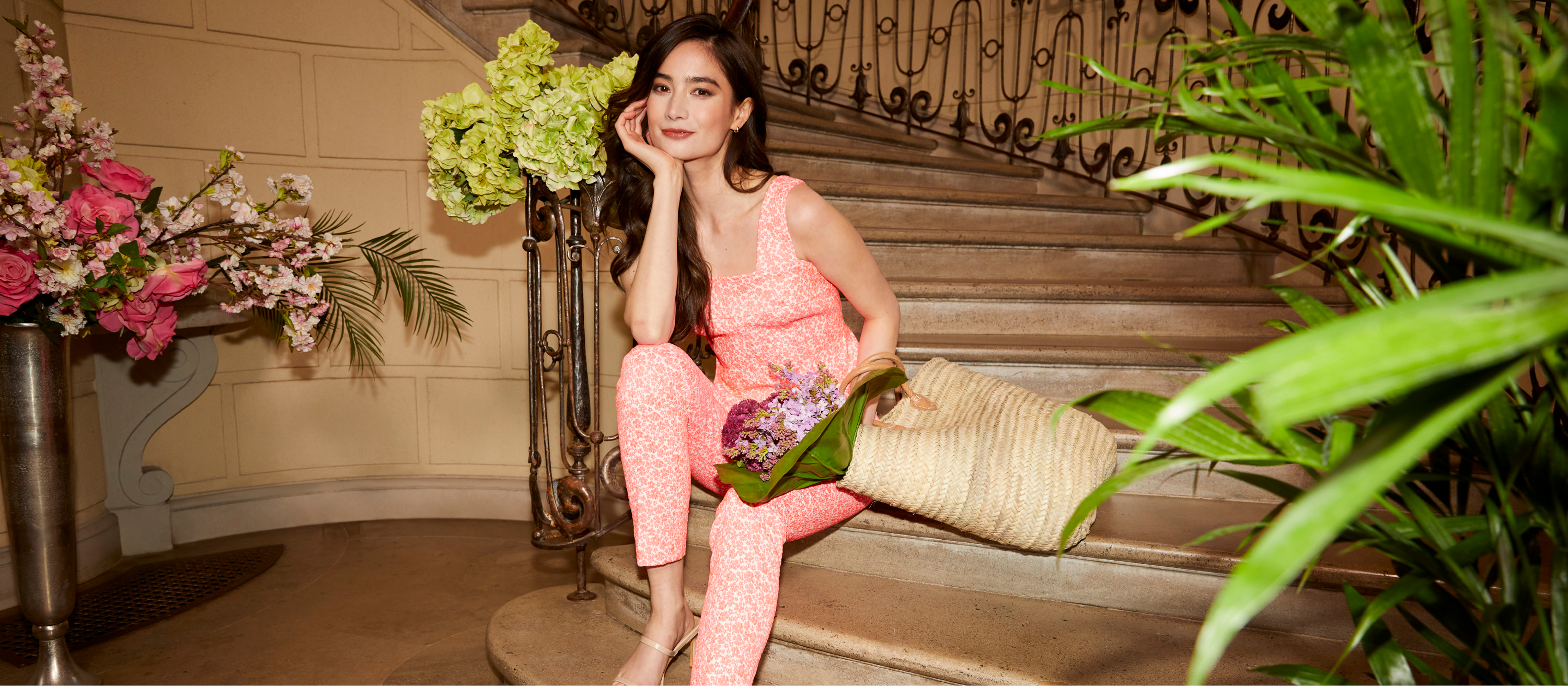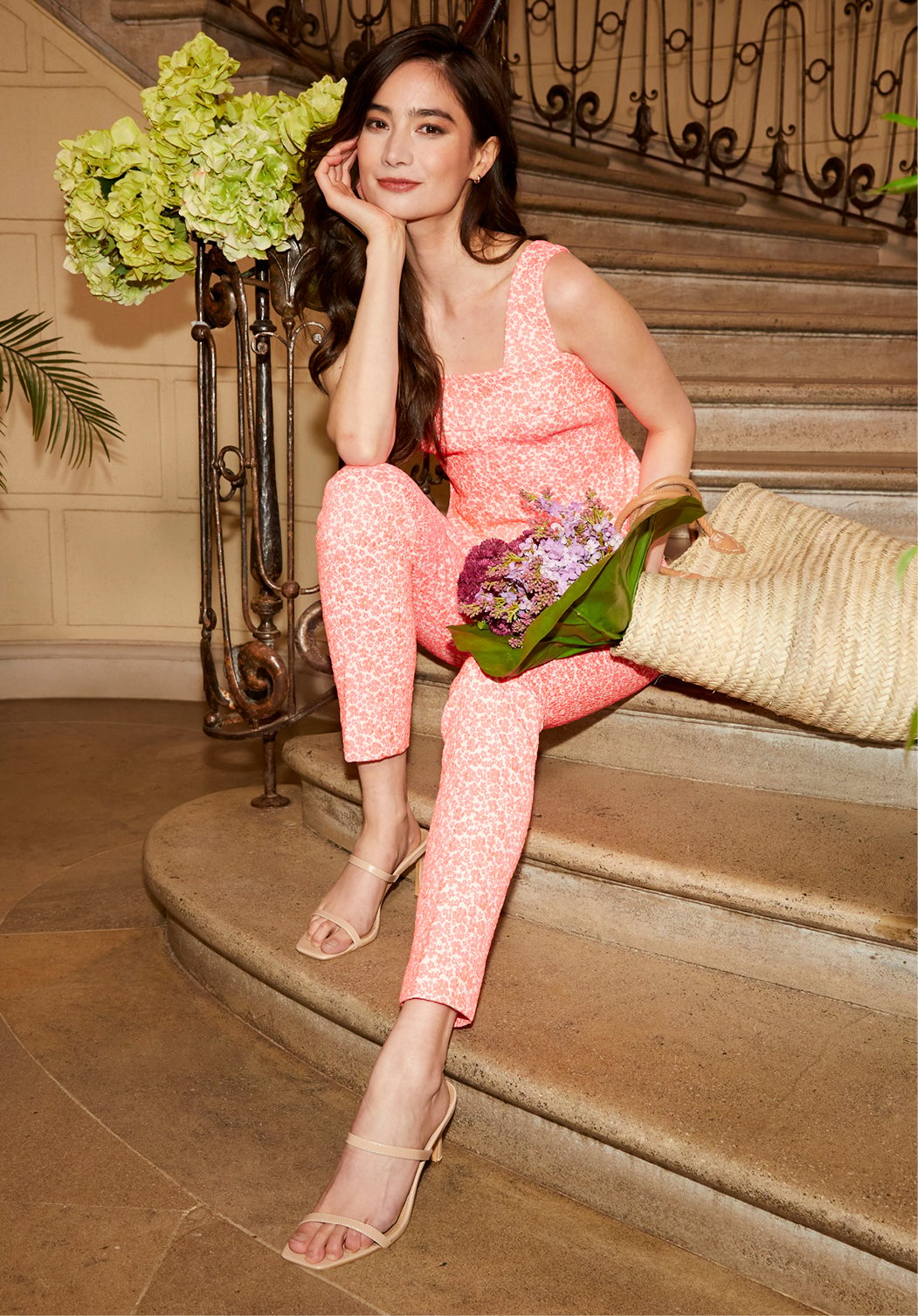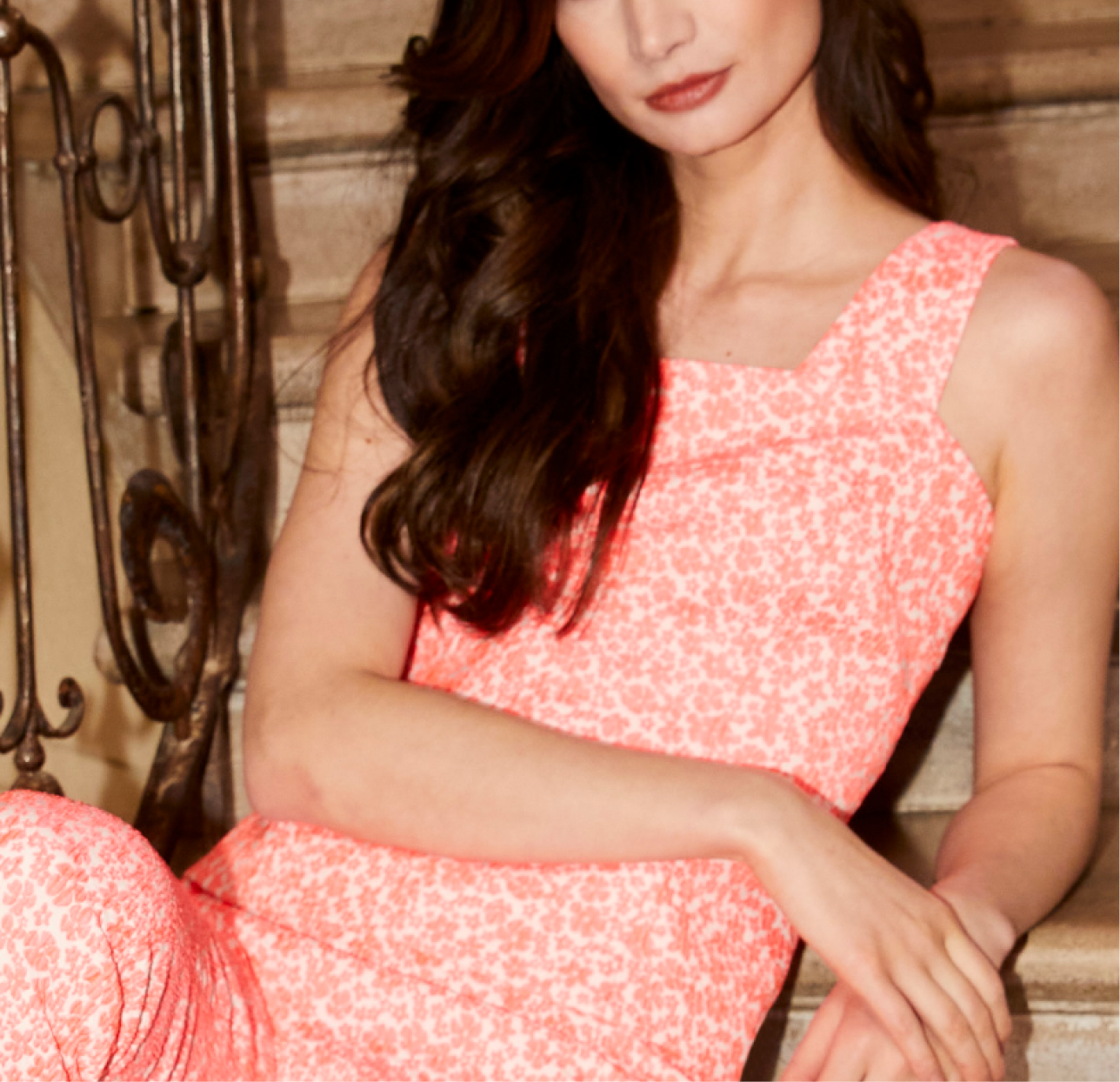 CORAL RELIEF
Soft coral pink is a summer superstar. The shade is universally flattering and can complement various skin tones, especially during summer when skin tends to have a natural sun-kissed glow. It can be as basic as a pleated silk pullover blouse or as rarified as a French brocade jacket with an undersea coral reef landscape. Coral pink is a versatile color that can add a touch of playfulness and sophistication to your summer wardrobe. It goes well with other summer colors and can elevate both casual and formal summer outfits. It adds a touch of elegance to summer dresses and silk blouses. Coral pink also pairs beautifully with white, beige, pastels, and even darker denim blue. It brings a cheerful, feminine touch to your vacation options.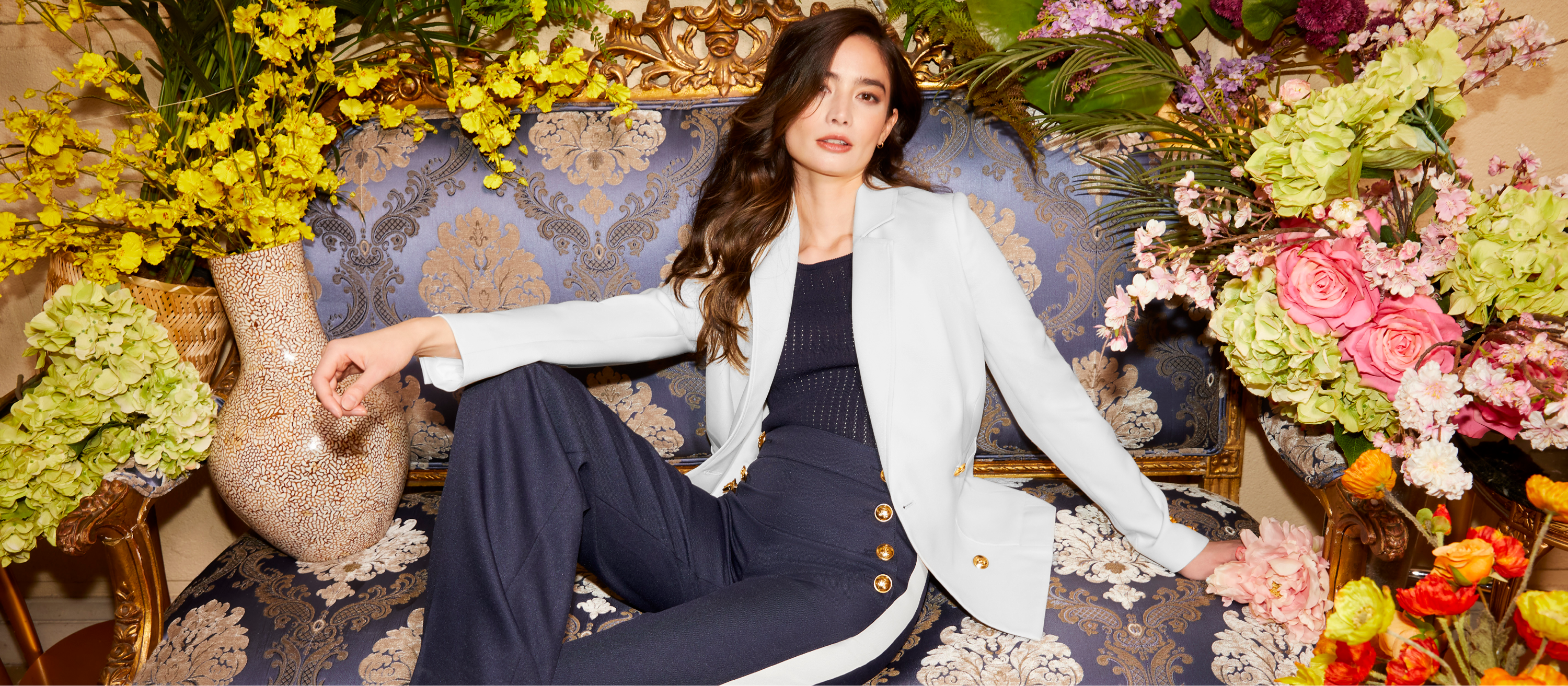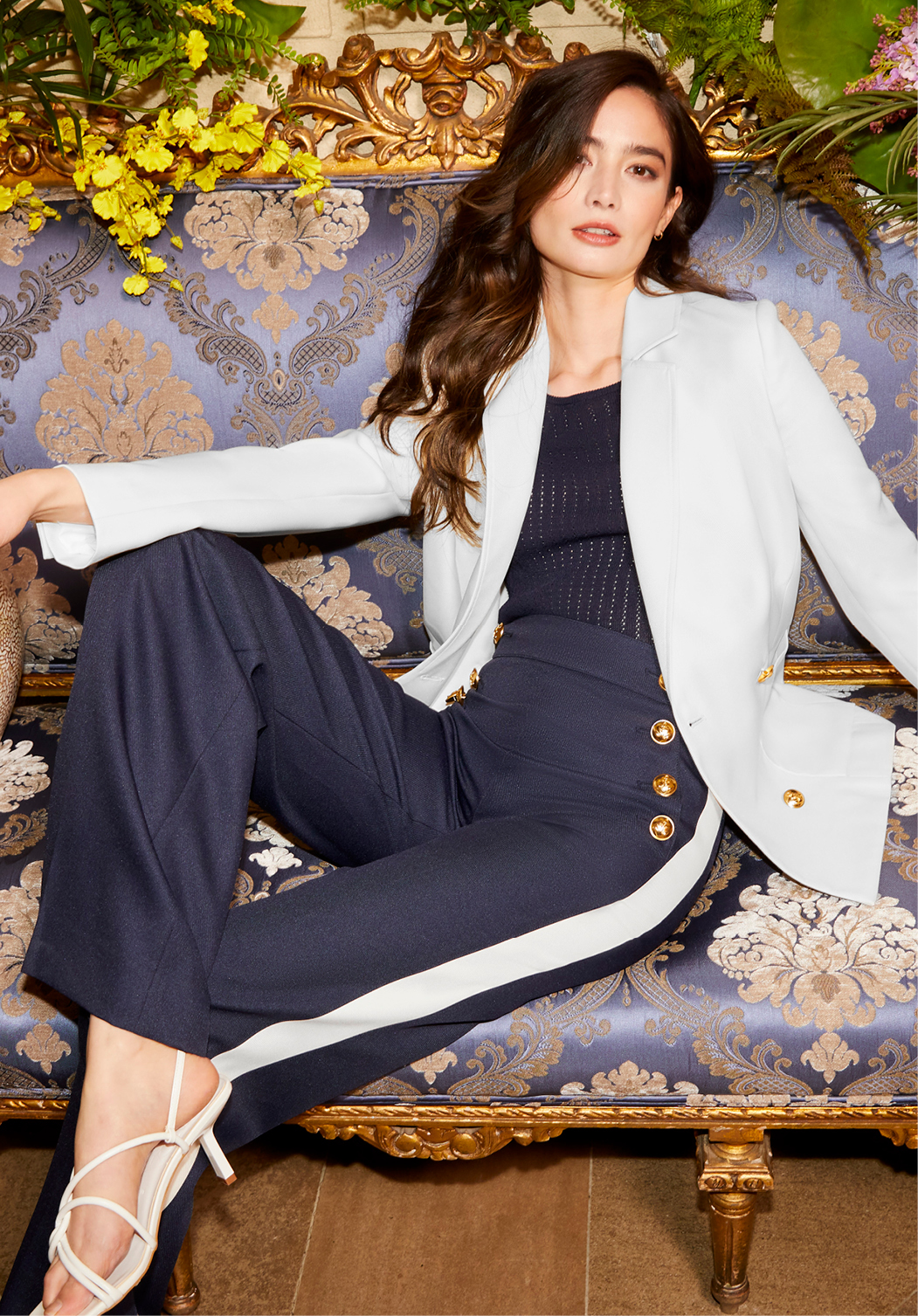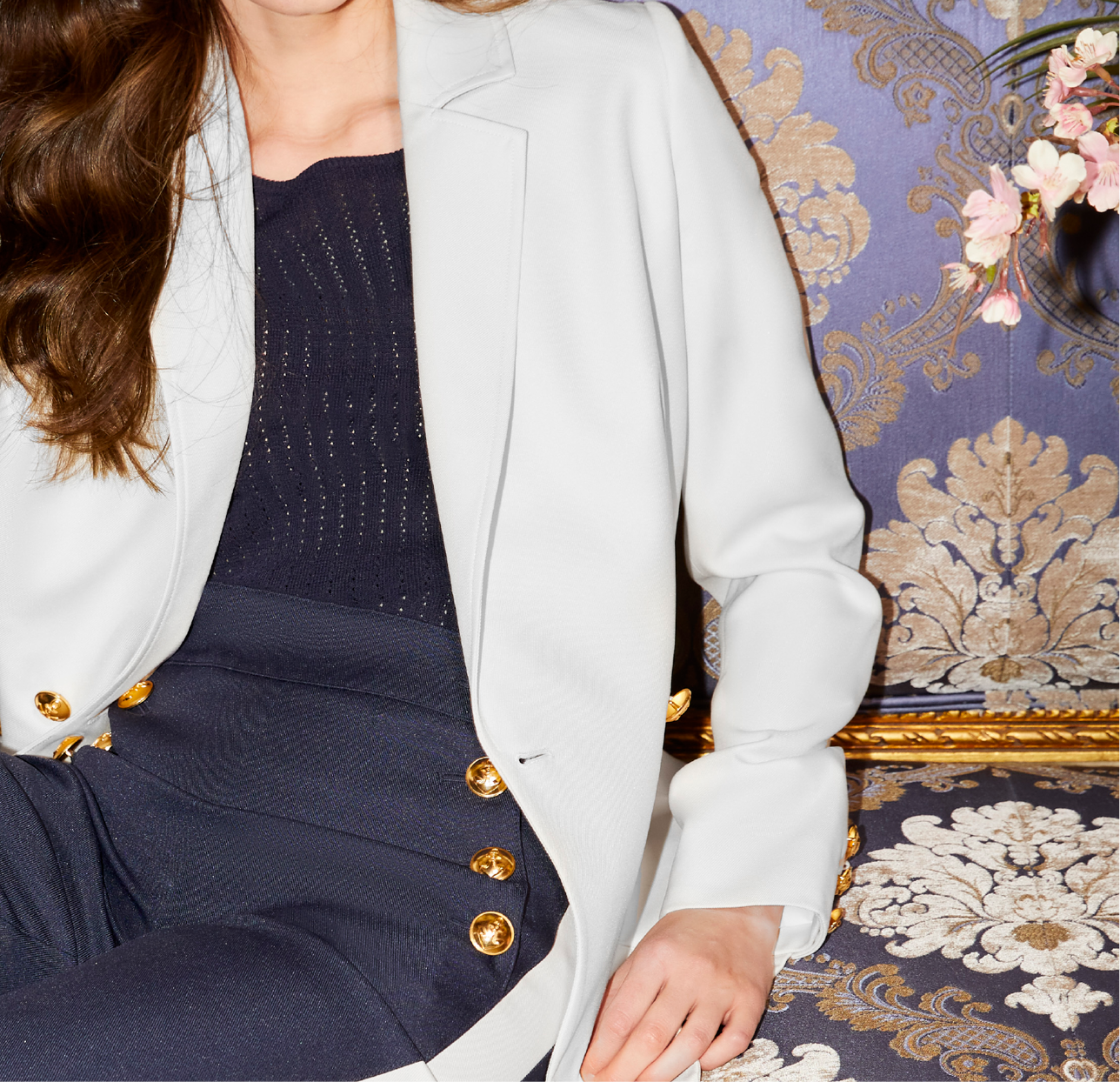 CRUISE CONTROL
Navy and white fashions in nautical styles create the ideal wardrobe for a posh Mediterranean cruise. Consider adding a striped shirt, white dress, navy blazer, espadrilles, wide-leg pants, or a button-front tweed dress to your wardrobe for chic and sophisticated nautical ensembles that are perfect for summer escapes. Start with the military side stripes or the more casual Breton variety. Jackets, pants, and knit tops feature domed buttons in shiny gold that are embellished with anchors. A cowl neck striped top in silk satin has a built-in scarf for flair. A soft striped sheath dress in fringed Italian tweed is trimmed in navy twill trapunto. A solid navy satin top adds dressed-up glamour. An airy pointelle knit shell balances these nautical ensembles with its warm sandstone neutral.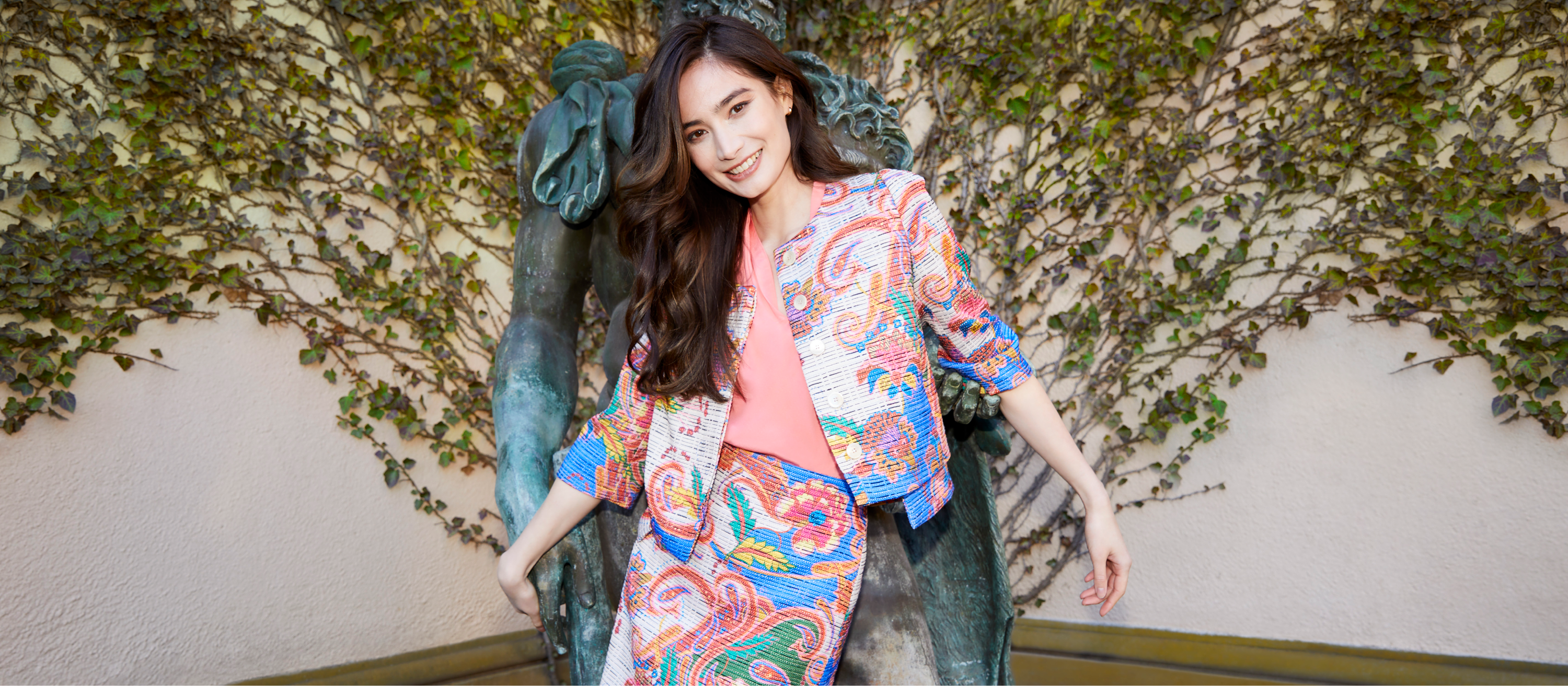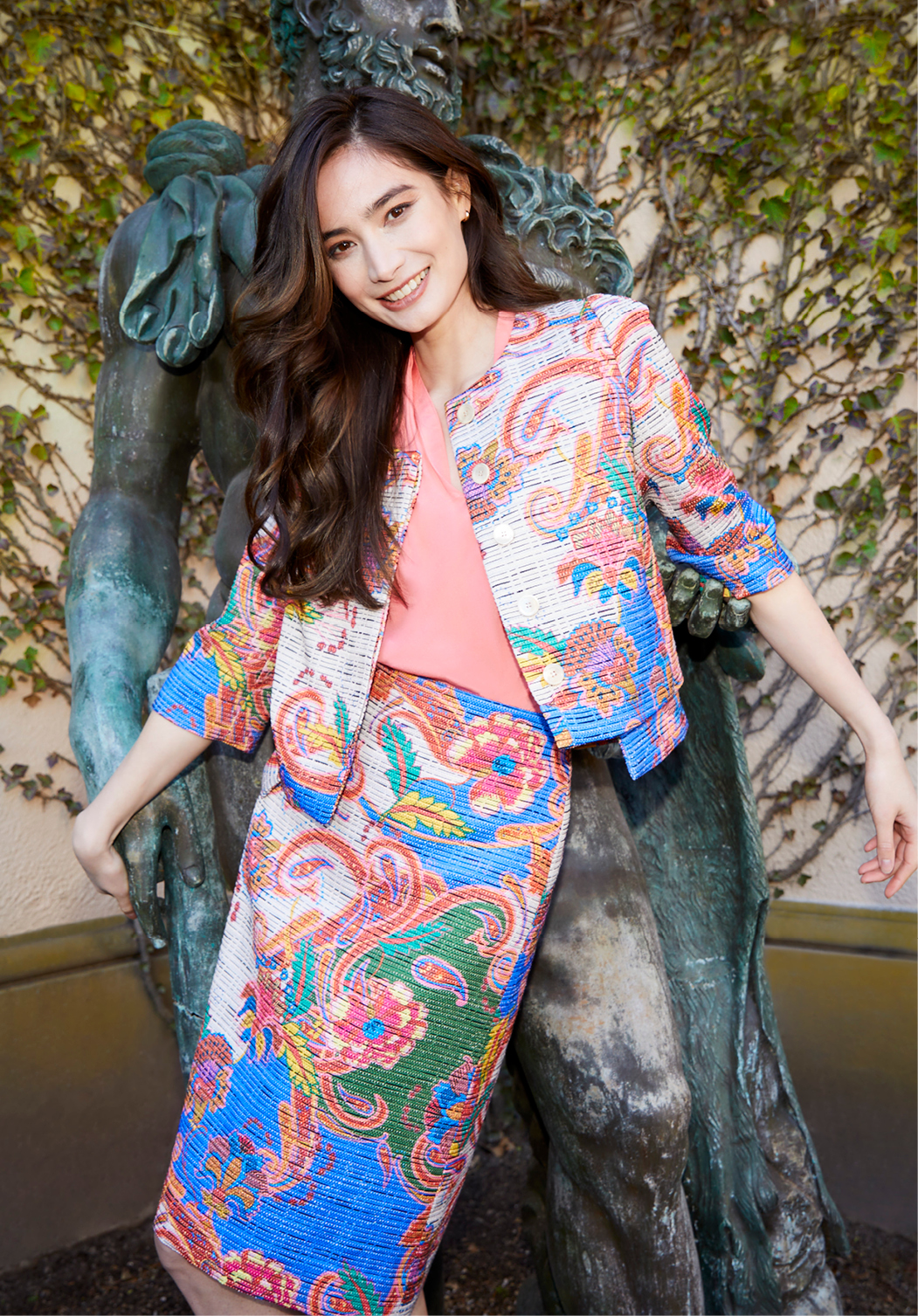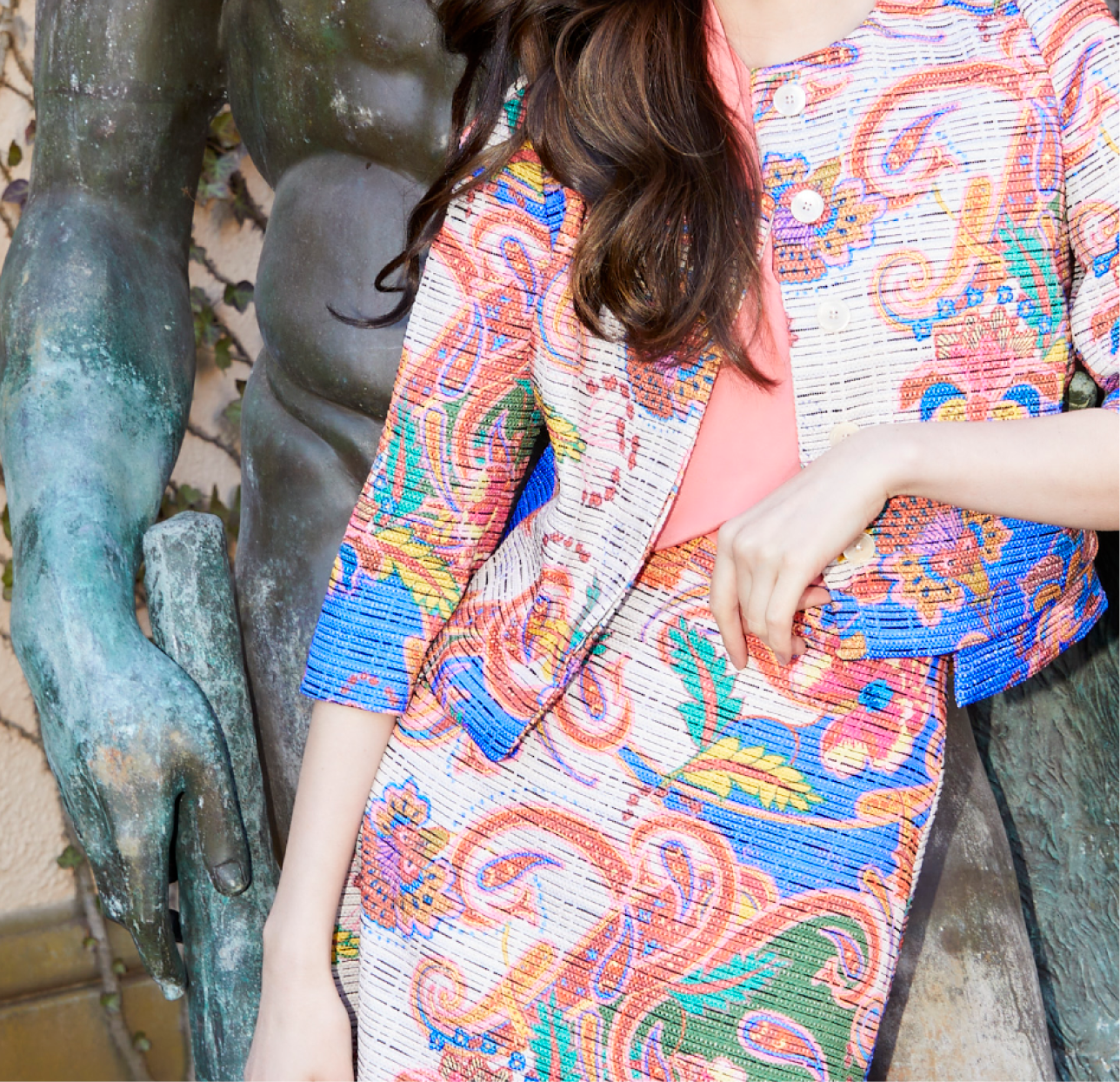 CALL OF THE RAINFOREST
The Brazilian rainforest offers a unique and exotic inspiration for summer fashion, with a focus on natural materials, bold prints, and sustainable materials. From textured knits to tropical florals, these pieces offer endless possibilities for creating unique and eye-catching looks. By incorporating elements of the jungle, they evoke the beauty and diversity of this incredible environment. The rainforest is also the source for a variety of natural materials that are perfect for these summer designs, such as cotton, linen, and silk. These materials are lightweight, breathable, and comfortable, making them ideal for the season.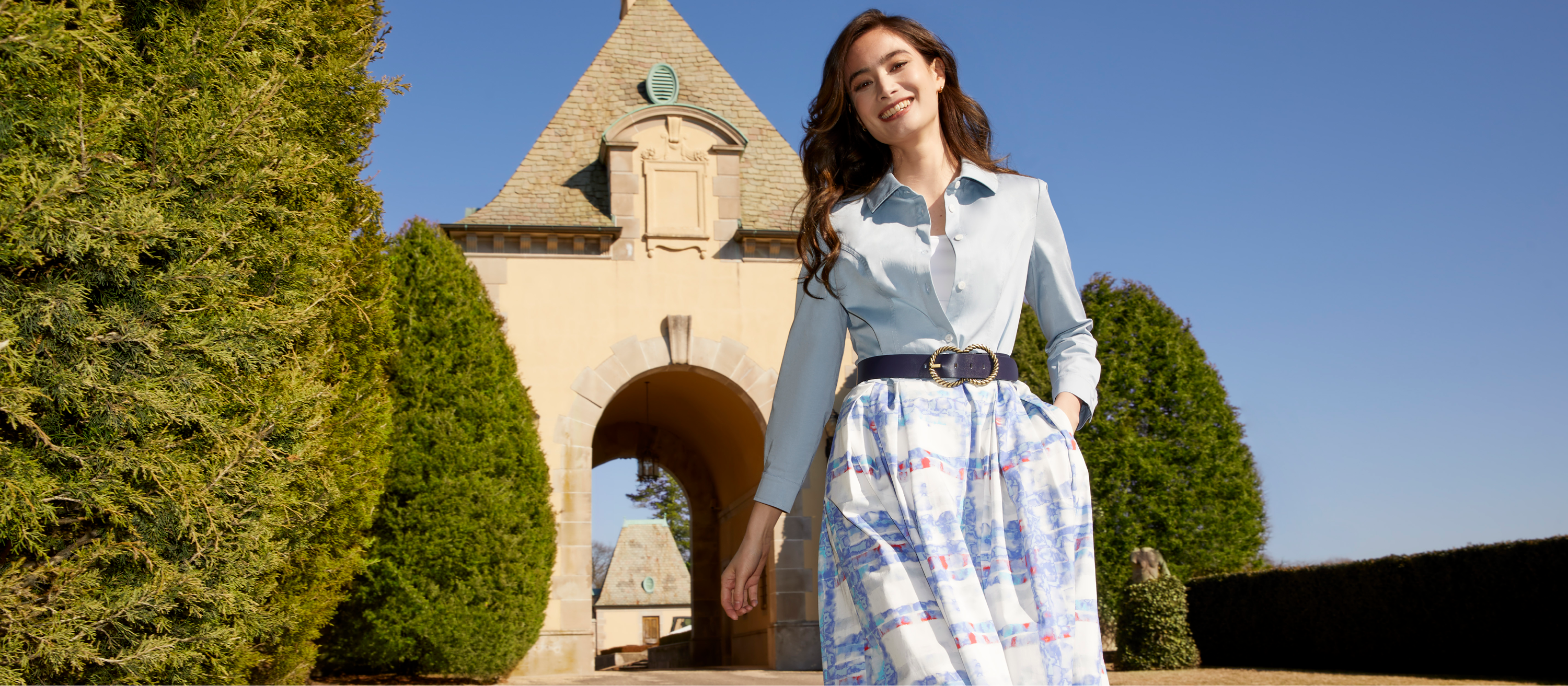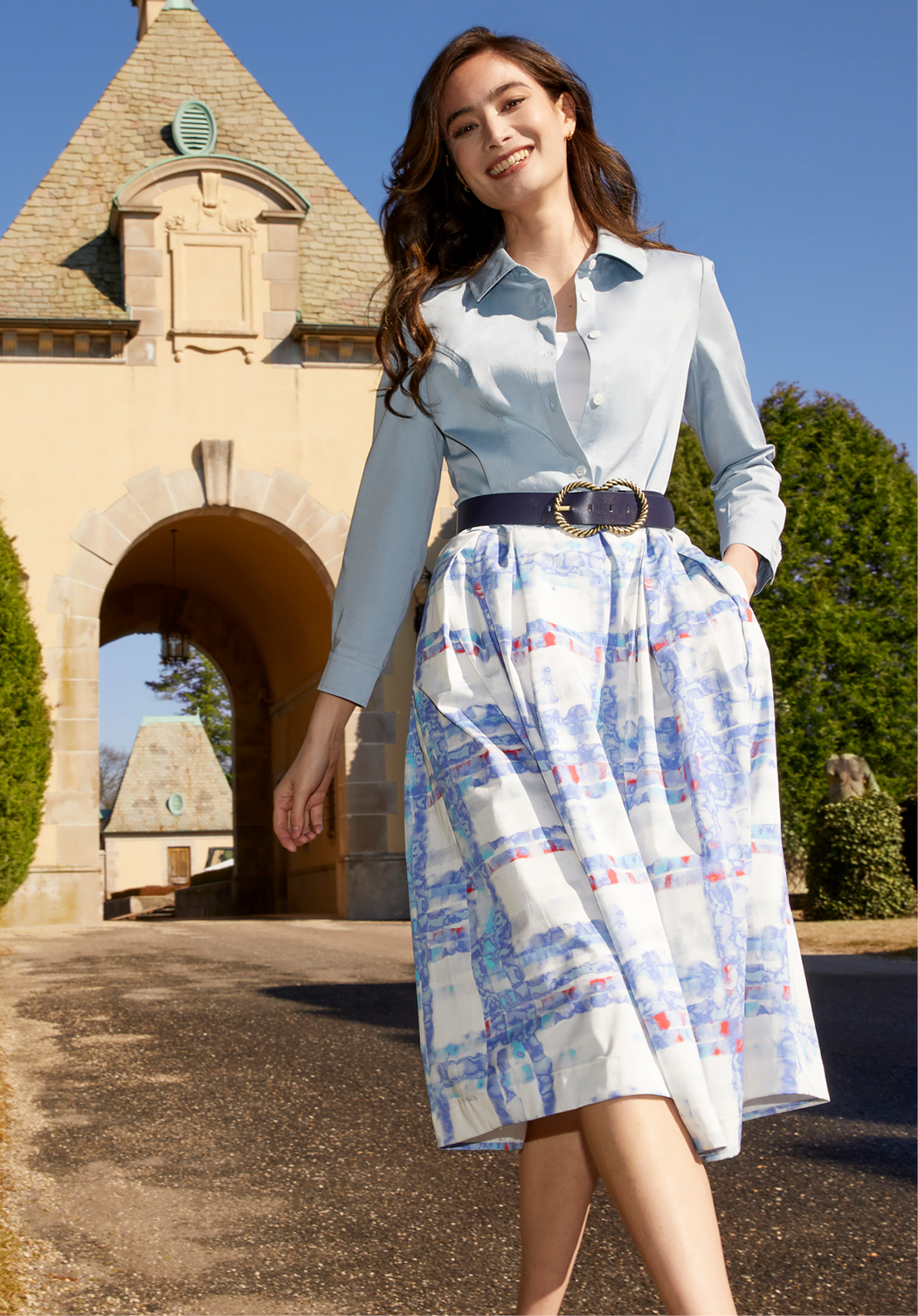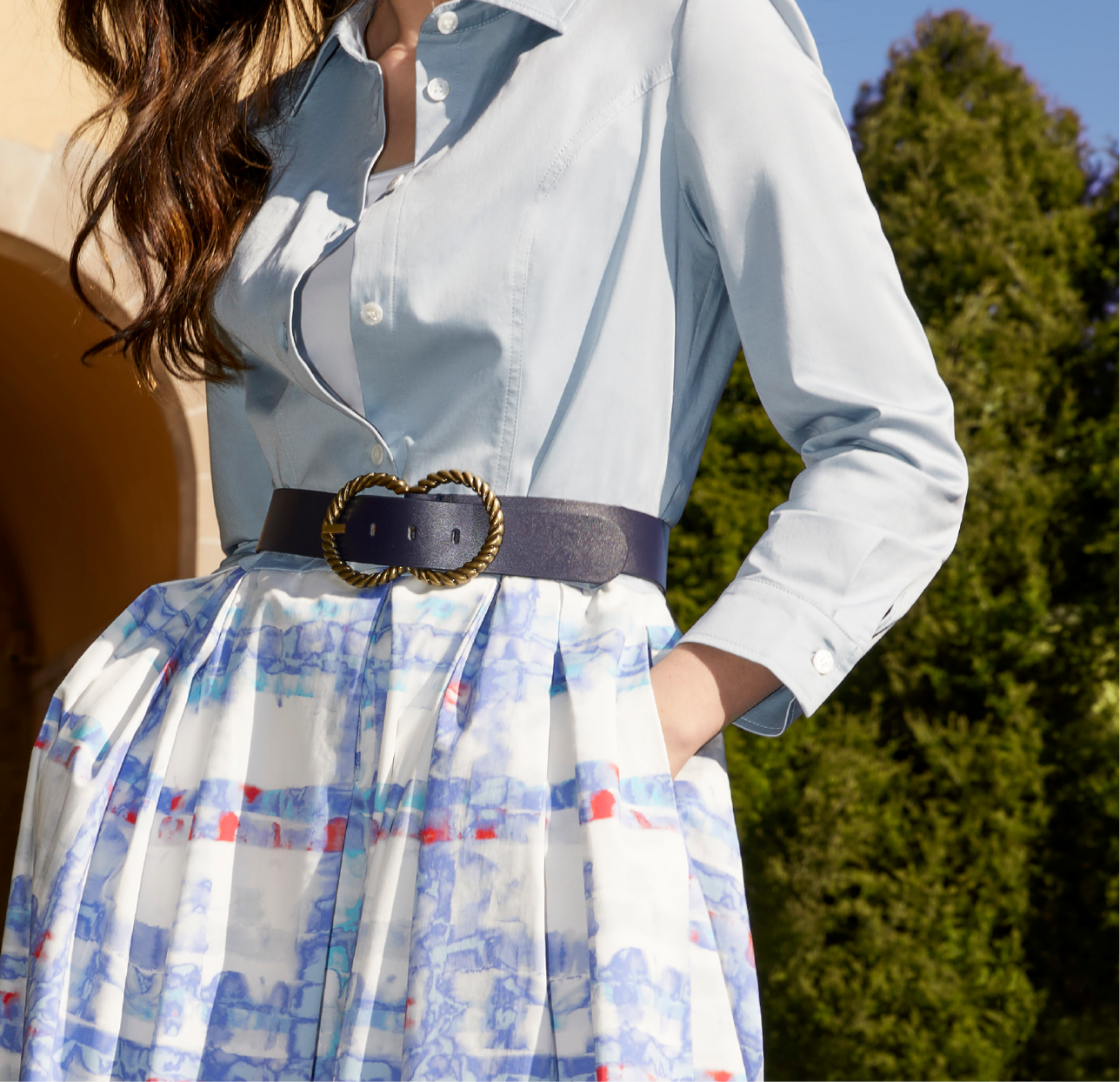 SURFSIDE RENDEZVOUS
The perfect coastal summer date calls for a relaxed and comfortable design that is also current and appropriate for the occasion. A capricious sateen shirt dress achieves instant top-down coordination. The bodice is Wedgwood blue, which resonates with the pool and Baja blues of the wide attached skirt in a luxe watercolor plaid print. These looks capture the feeling of an endless summer. Sport a textured jacquard sundress in Bermuda aqua, worn as a duster over pure white separates with a silk watercolor scarf. The same print seen in the scarf adorns a flowy silk satin shift that will impress all parties at any summer gathering. It is as comfortable and breezy as it is elegant. Go from work straight to the beach in a graphically rich, varied-stripe blazer over pool blue pants.