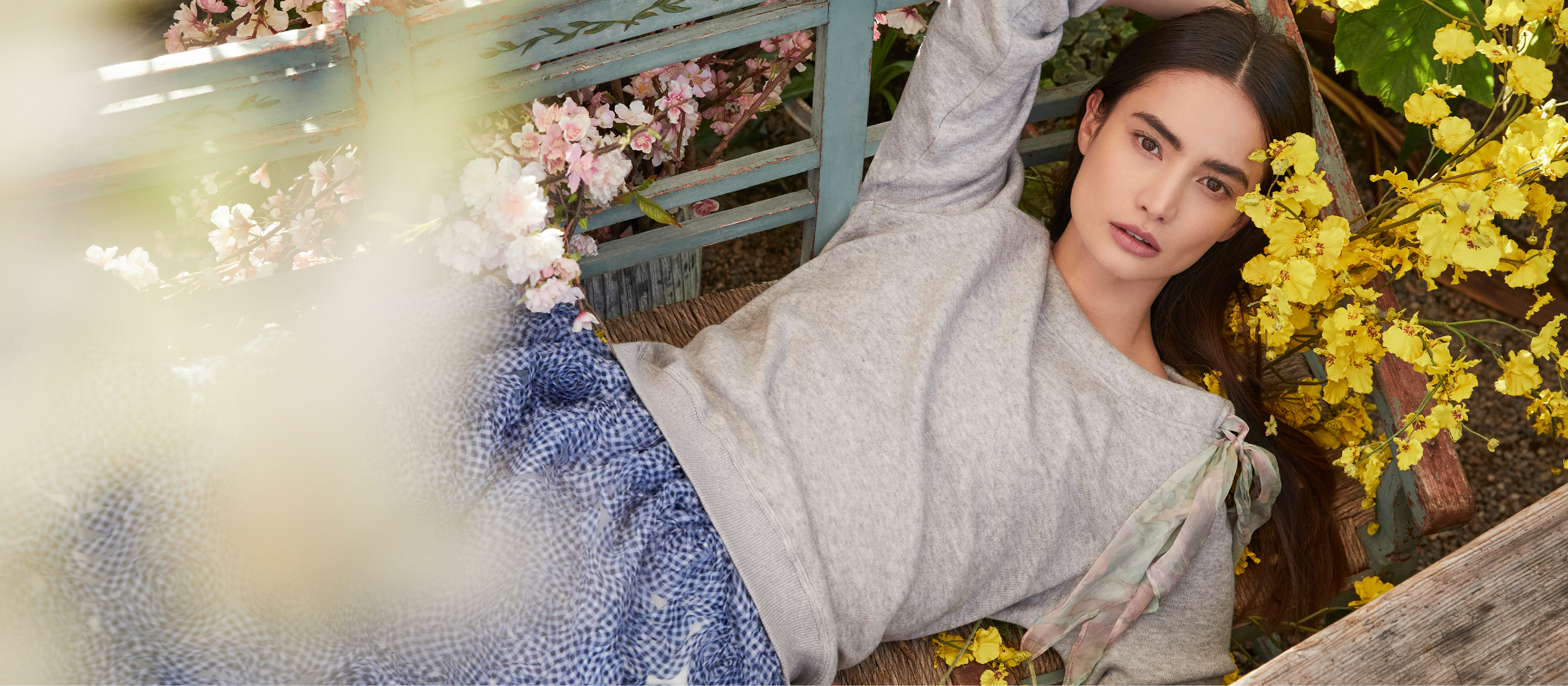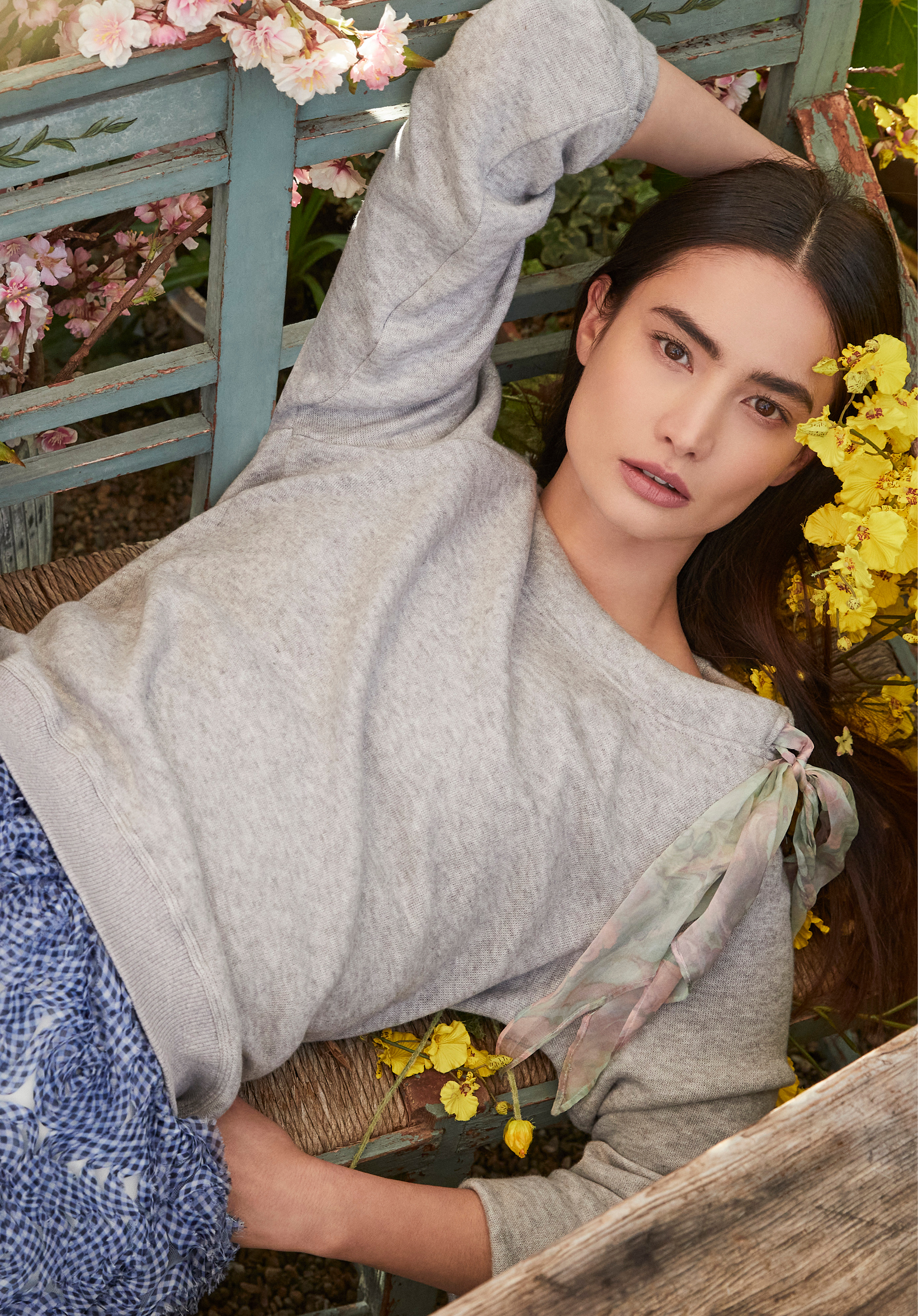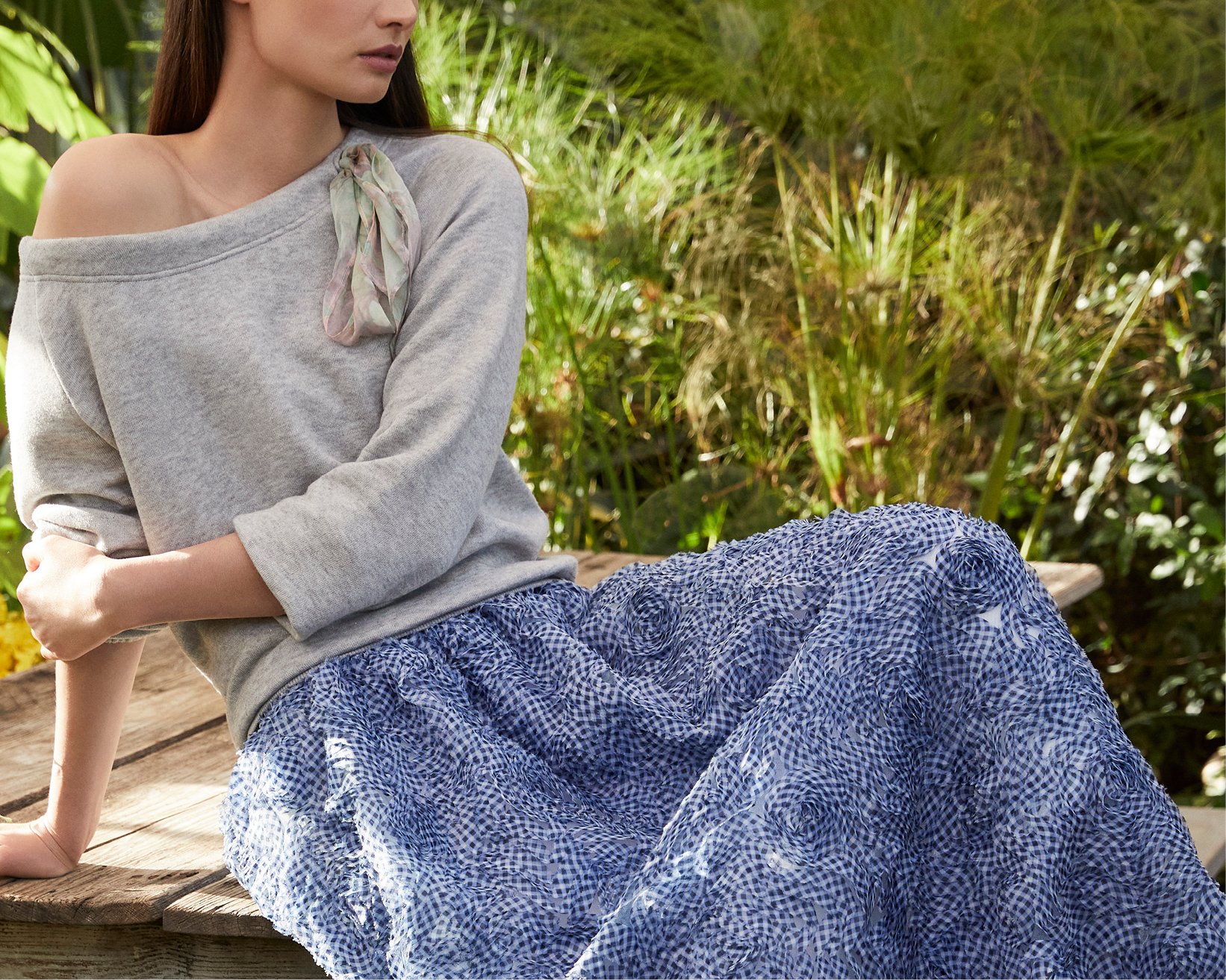 PENCIL THESE IN
Spring affairs are the opportunity to dress in floral finery. These garden-inspired pieces make an impression in both conventional and inventive ways. An ethereal watercolor print features oversized blooms in electric pastels. A mauve tulle dress with a retro sweep charms with shiny and matte lilac sequins. A trendy cropped cashmere cardigan glints with a large Swarovski crystal. A cashmere-softened cotton pullover nods to the knitwear tradition with a modern take on argyle in petunia and mint. The classic ball skirt is redefined with hand-applied gingham roses. Its coordinating sweatshirt attains haute chic with a shirred convertible neckline, trimmed with Italian silk chiffon.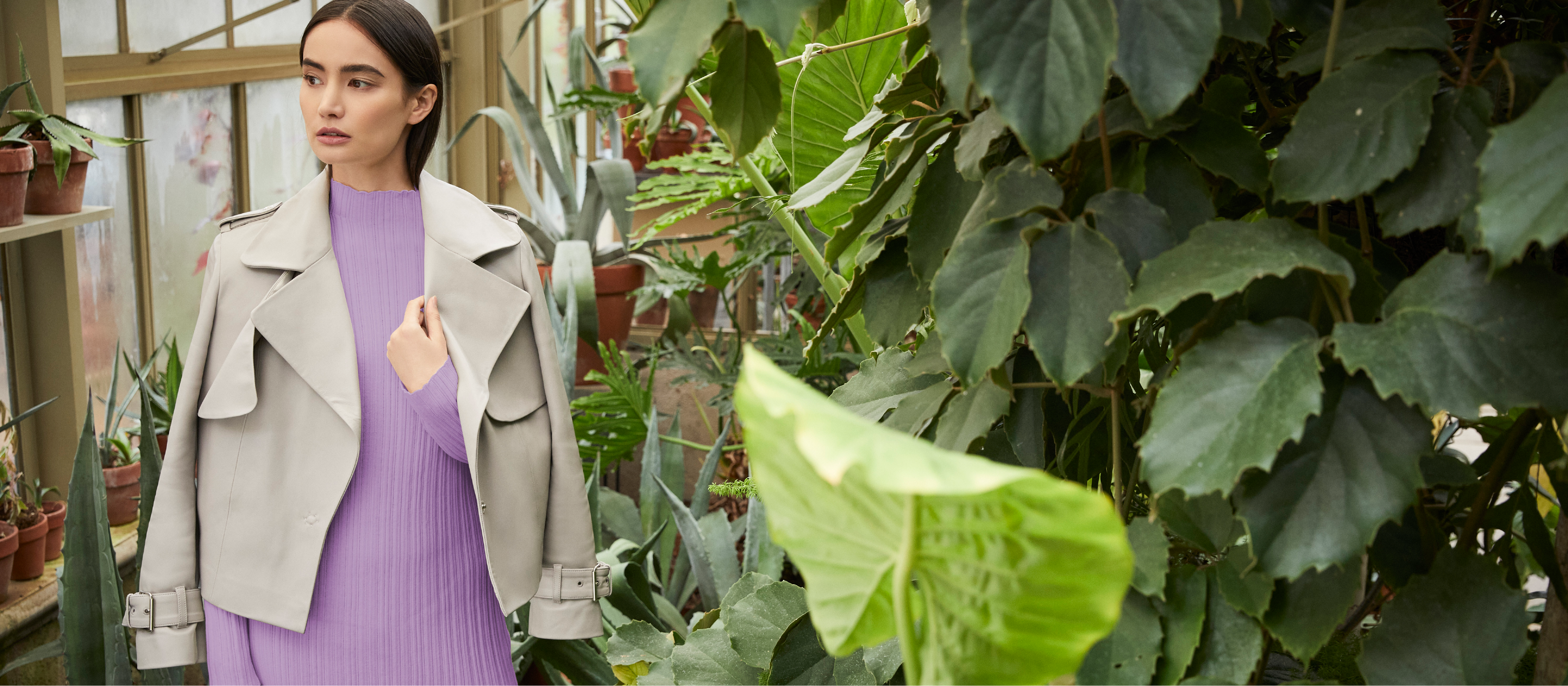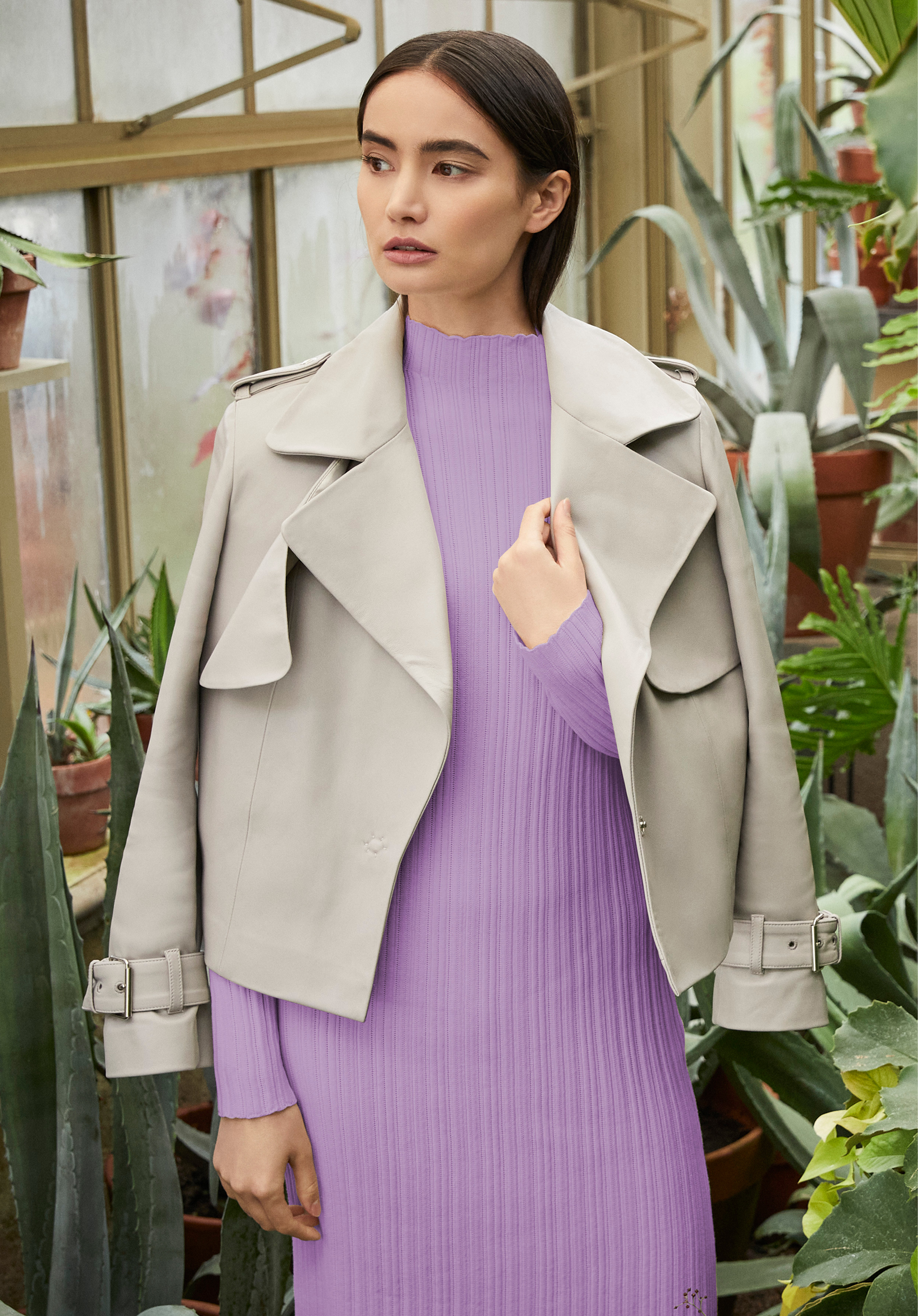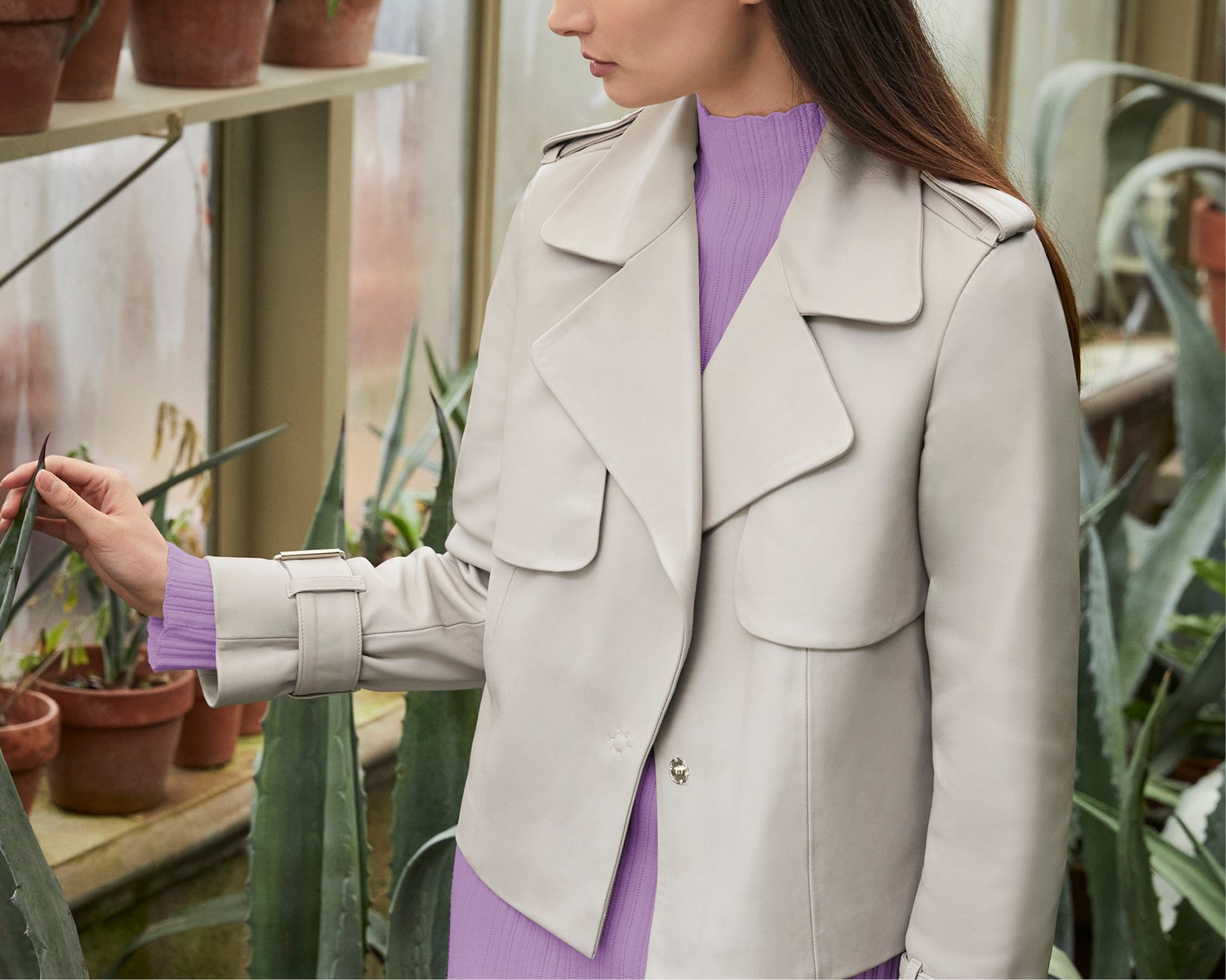 FEELS LIKE SPRING
New fabrications are a total delight to the sense of touch. The fitted shapes of our gray gabardine are smoother and easier to wear, thanks to the addition of extra stretch. A generous touch of cashmere makes a convertible cotton cardi sweater a guilty pleasure. Floral-printed Italian chiffon is light, airy, and pure silk. Double-faced European leather outerwear simply feels too nice to take off indoors. Our Italian sweater yarn fashions a sheath dress with the dual satisfactions of a mixed-rib texture and the hand-feel of silk.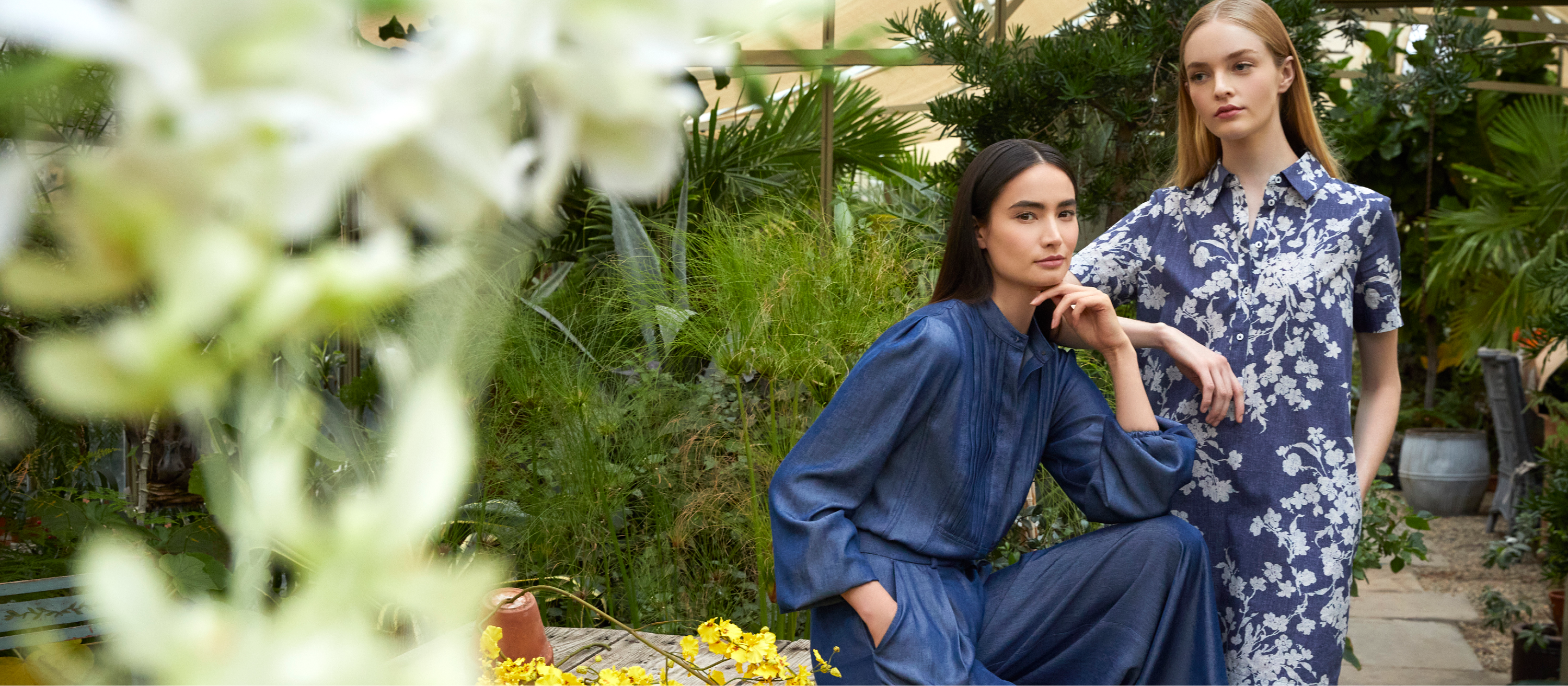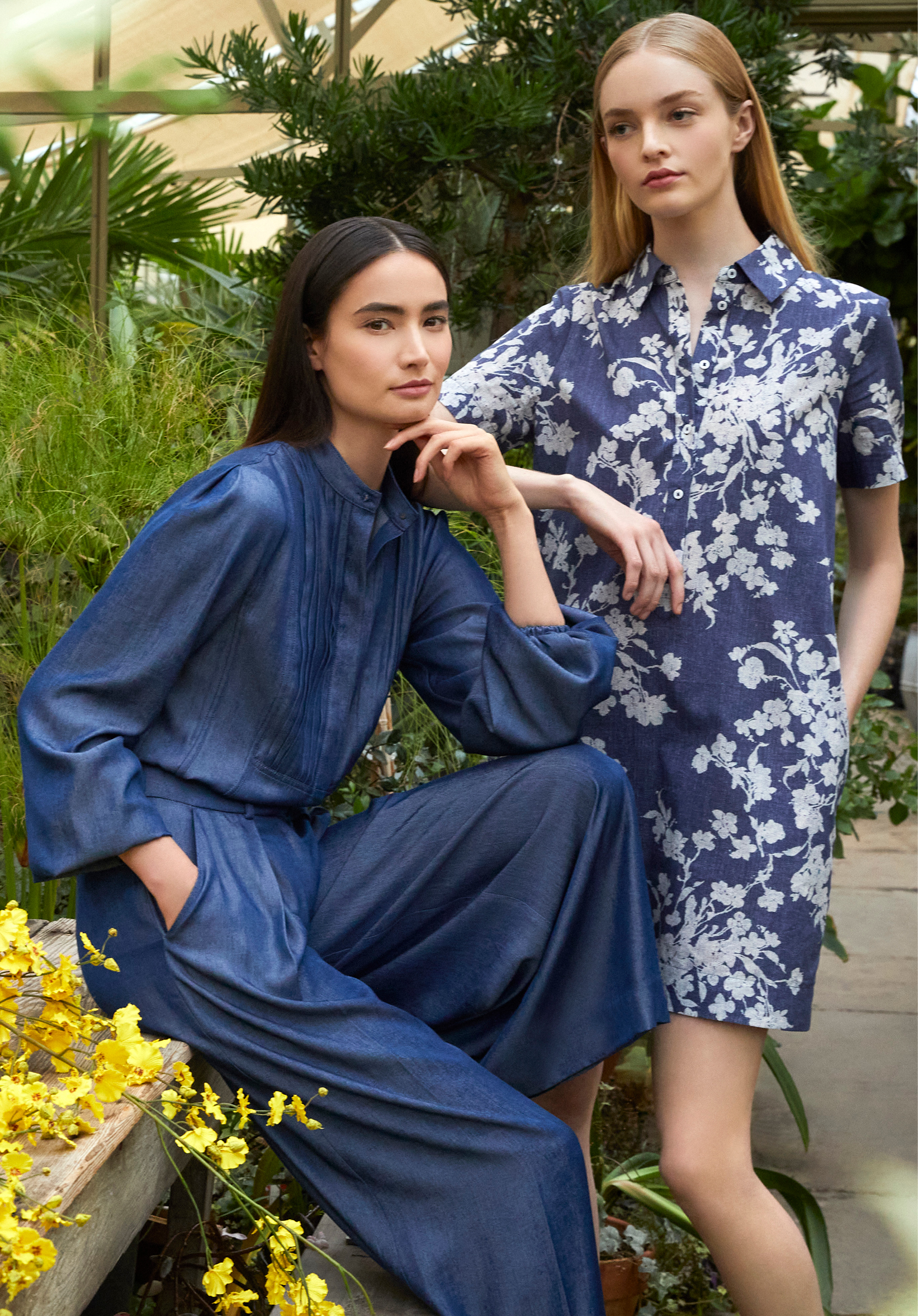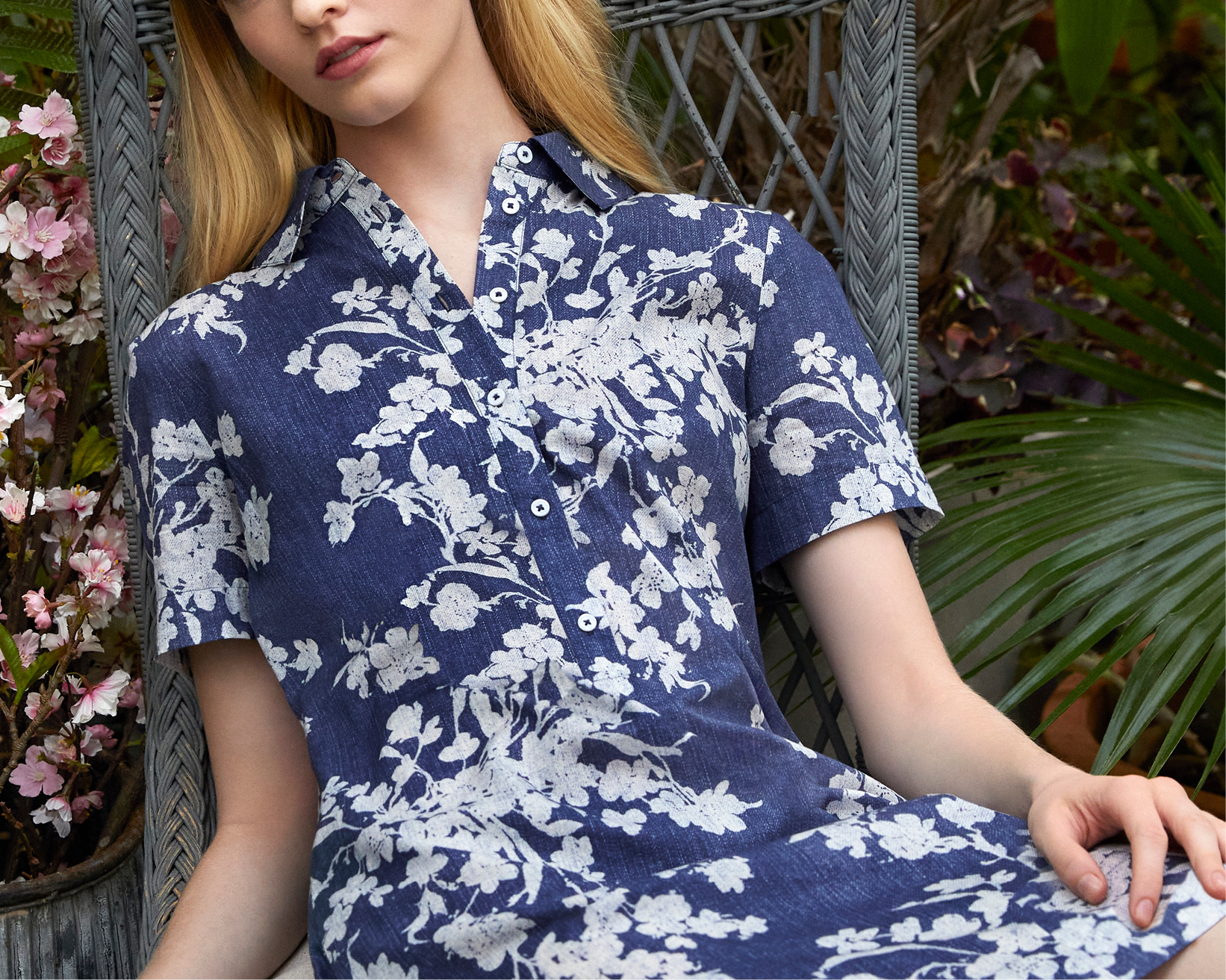 DENIM REVERIES
The quintessential American fabric comes to life in new ways. Classic shades like dark indigo make way for spring tones of pale mint, petunia, and white. The new evolved denim can be used to enrich a fancy patchwork-look sheath and jacket ensemble in four denim shades or to upscale a casual tie-dye print sweater. The pièce de résistance is an Italian denim blouse and palazzo pants ensemble that transforms this fabric into something synonymous with easy draping.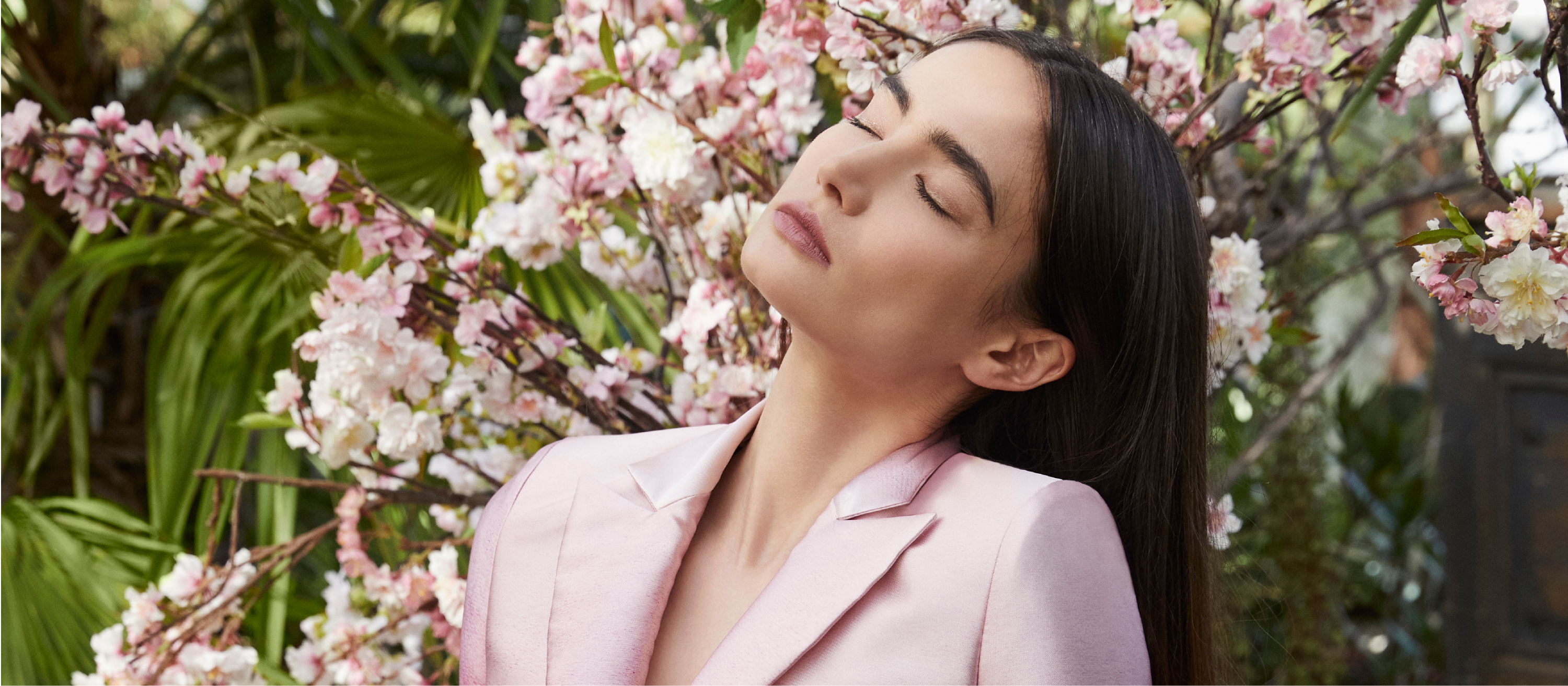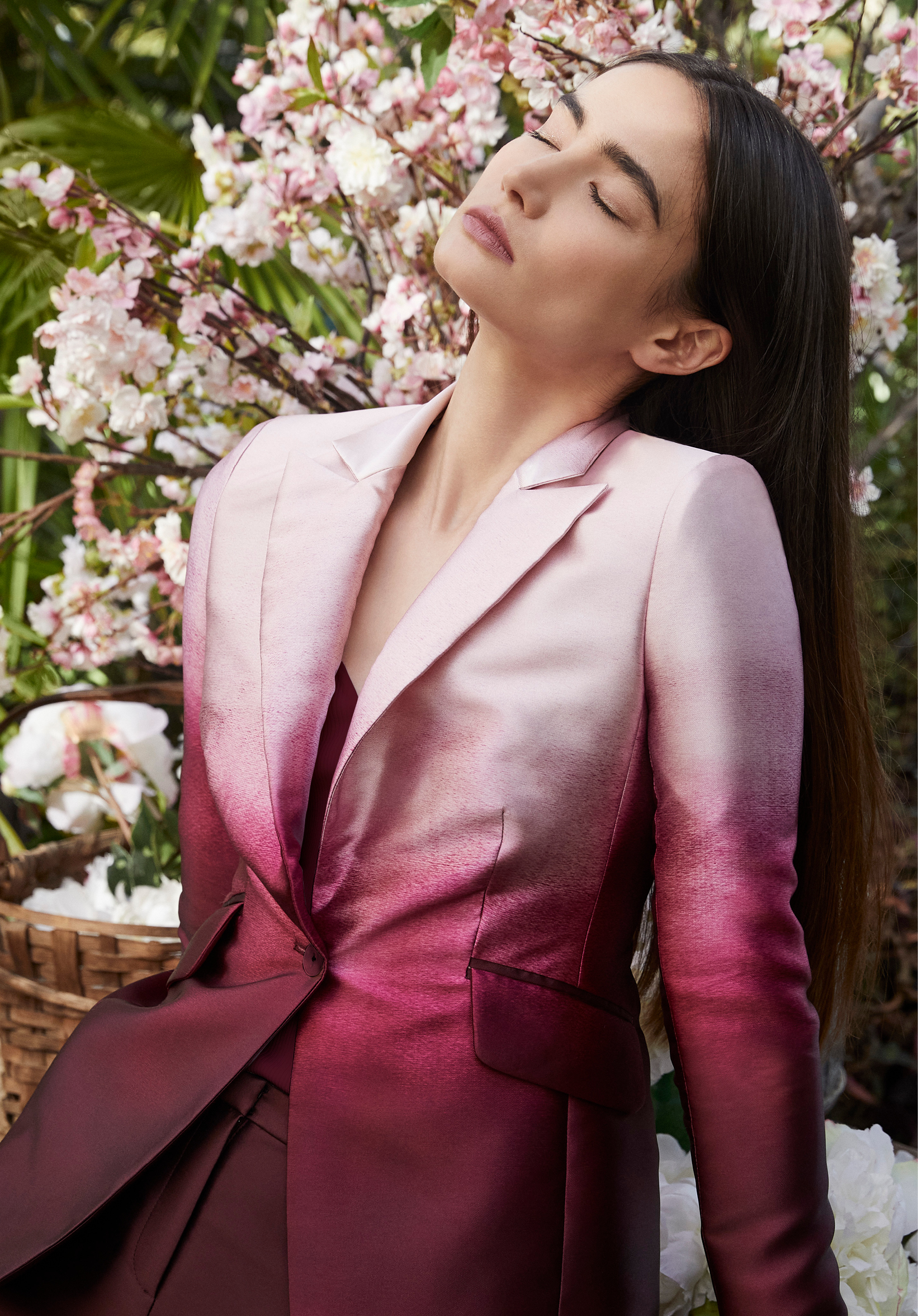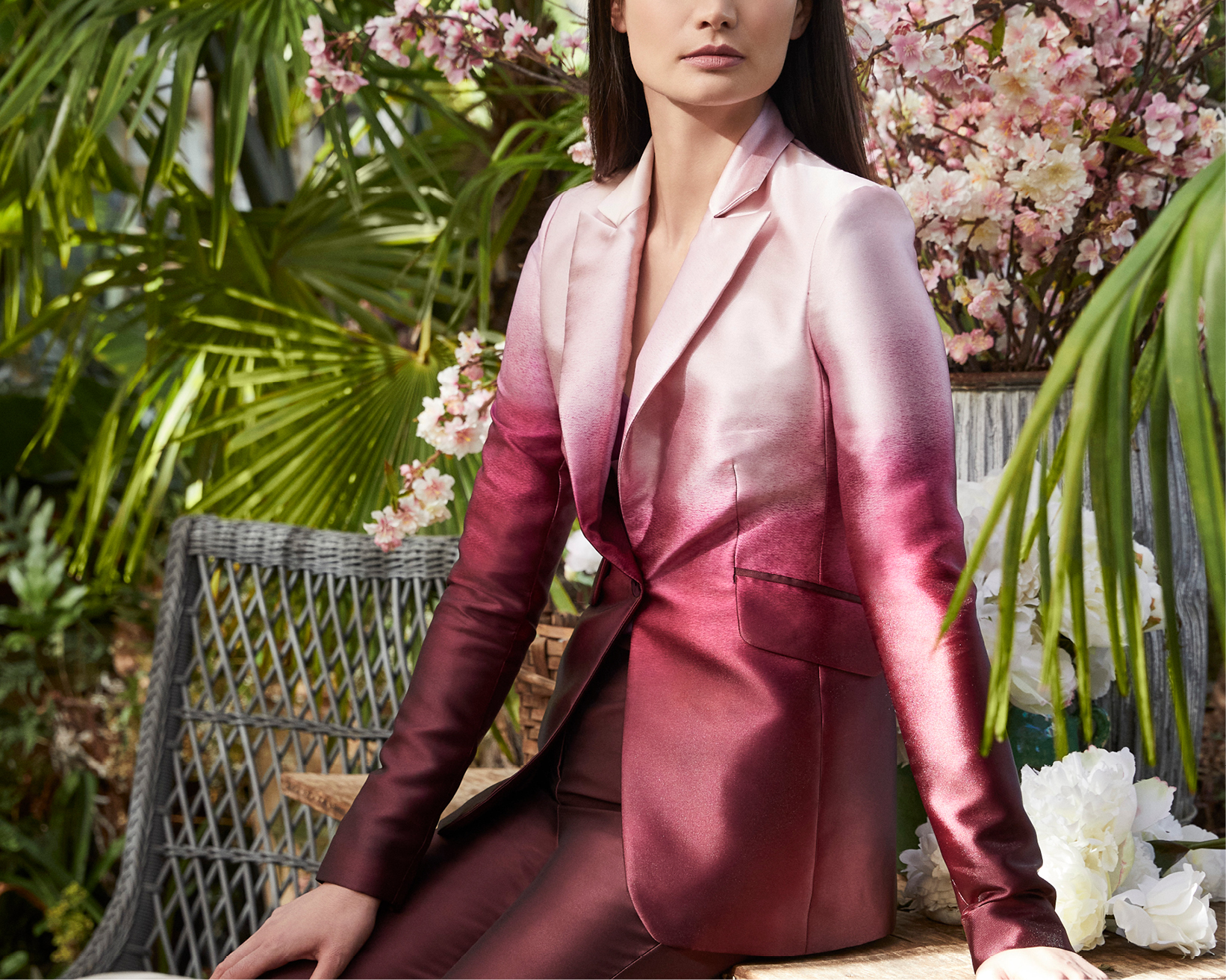 SUAVE SPECTRUM
Spring color is not all forsythia and crocus. The current botanical inspiration includes more, from pale heather to deep sangria and everything in between. A Spanish tweed skirt and jacket look pastel, but include shades of tickled pink, frosé, petunia, ivory, ore, and mamey orange. A mosaic-print silk blouse contains those shades, and ups the ante with metallic gold and cardinal red. The presentation of colors itself is also new, from the palest marble-print chiffon scarf to the Italian toile de jouy jeans in the richest sangria and pink yarn-dyed jacquard. That exotic bottom features sangria palm trees, monkeys, peacocks, and pheasants. In a similar vein, cropped jeans are printed in dark denim blue and sangria red in an oversized paisley pattern.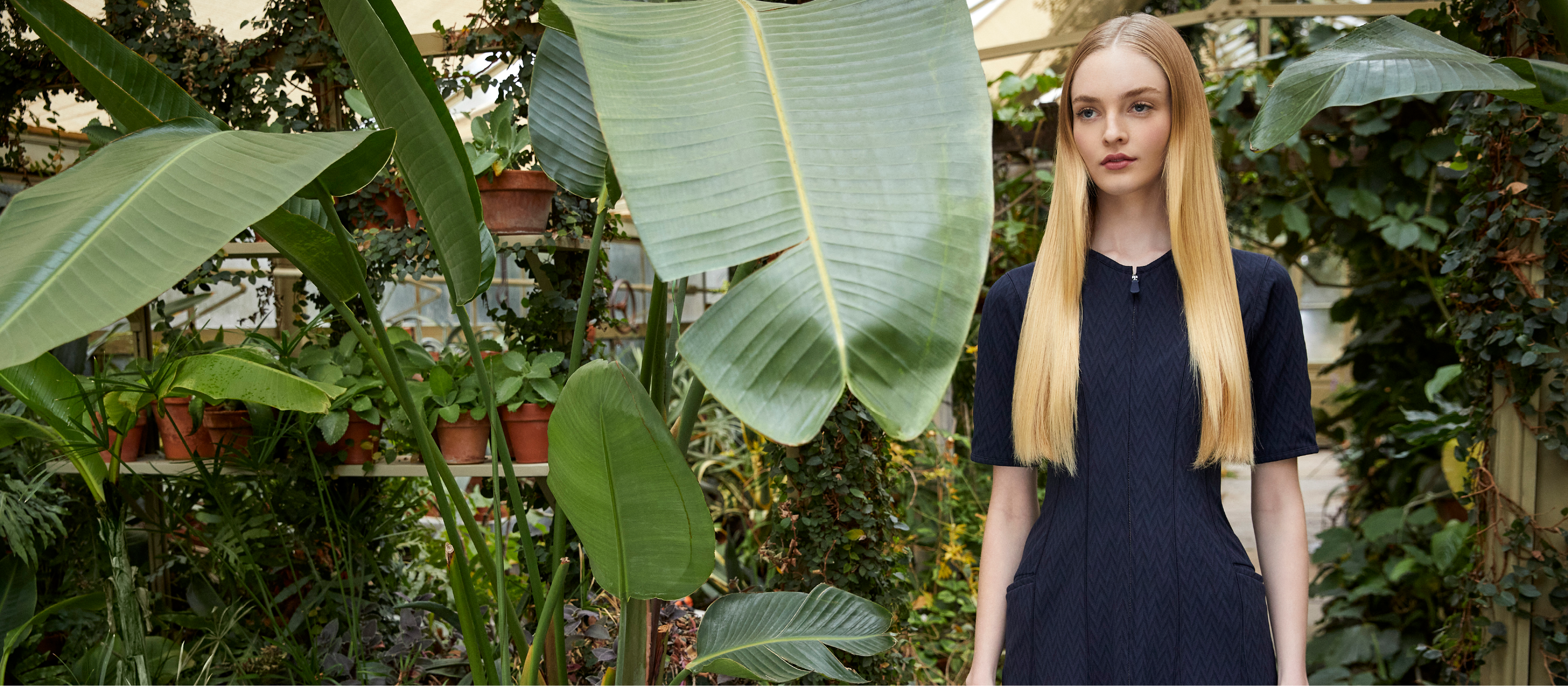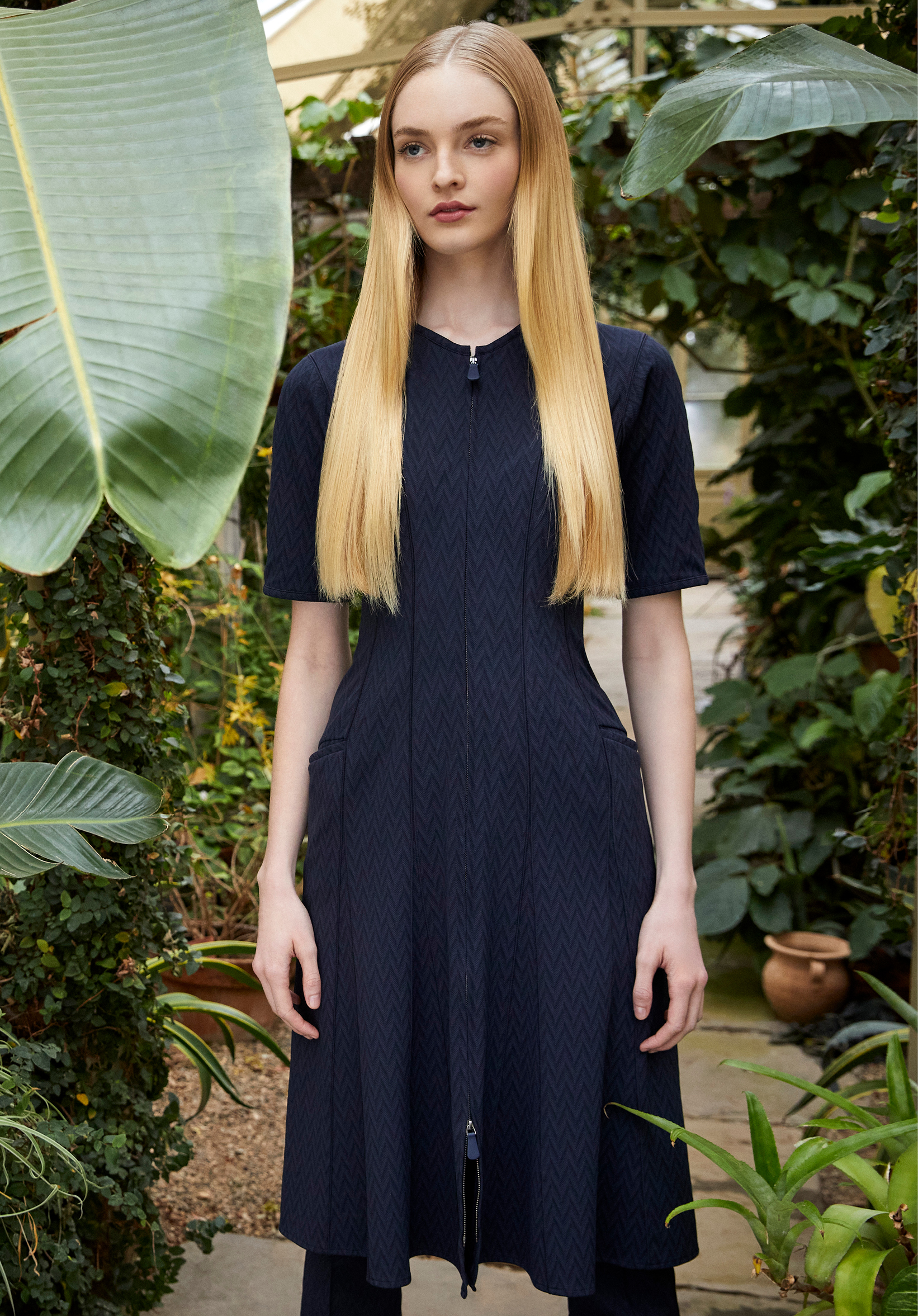 HOUSE OF THE BLUES
Break away from traditional neutrals with these new shades of blue. The superb tailoring and stunning chevron jacquard take this little navy dress to the next level. Discover high style suiting with white tipping in a refined Portuguese plaid in indigo blue. Meanwhile, dark denim jeans pop with a lighter shade of denim and wine red in a versatile paisley print. A trellis-print piqué cotton skirt, features moraine and cerulean blues. A "secret garden" blouse pairs perfectly with navy ponte knit pants. The same chevron ponte pants do great service under a shimmering Spanish plisado blouse. And a sleeveless fil coupé blouse utilizes an Aegean blue that works back to nearly every solid bottom in the line.